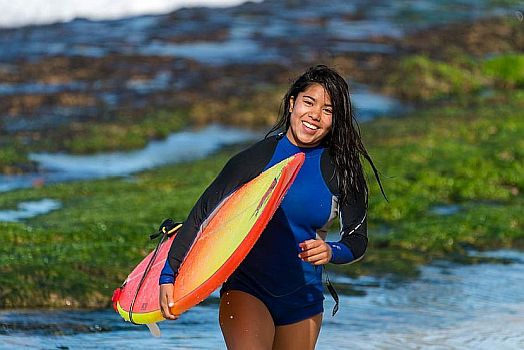 Wherever there is a body of water, there is a path for the kayak. When we spend more time in proximity to nature, we get relieved from all the tensions of our hectic lives. Adventurers who like to be indulging in extreme water sports for the sheer fun and challenge they know the importance of wetsuits. When embarking on various adventurous water sports, it is very necessary to be prepared with protective apparel and accessories. Women are very specific about their apparels and protection. For them ladies paddle wetsuits are available.

Function of Wetsuits

Wetsuits are used in all manner of water sports, including surfing, stand up paddleboarding and diving and kayaking to protect the swimmer from cold water and air temperatures. These are suits that are specifically designed to endure the cold and wet. Wetsuits are typically made of neoprene, which is a flexible material and not only protects you from the temperature but is still flexible enough to allow them to manoeuvre about.

Various Materials used to make women paddle wetsuits:
Wetsuits are typically made of neoprene, which is a flexible material and not only protects the kayaker from the temperature but is still flexible enough to allow them to be able to manoeuvre about.

The neoprene insulates a paddler's body from splashing water or immersion and allows the body to warm up after the first shock of cold. Wetsuits come in various thicknesses. Thicker neoprene will provide more insulation but will be stiffer. Wetsuits are also available in materials such as Polartec, Hydroskin, Aquashell, and more. Aquashell is nylon lined with fleece which makes it more flexible than neoprene but can also be more expensive than neoprene.

Different types of Women paddle wetsuits
There are different types of wetsuits available in the market. Spring or shorty wetsuits are thin, short-sleeved and short-legged. Kayaking wetsuits sometimes include grippy material which helps maintain friction with kayak seats.
Full Wetsuits
A full wetsuit provides complete coverage of your arms and legs, providing optimum warmth. If you're planning on venturing into the sea during the colder months of the year, then a winter wetsuit will become your new best friend. With up to 5mm thick neoprene, winter wetsuits remain stretchy and comfy, aiding easier movement in the water.

During summer, go for a wetsuit with a thinner neoprene thickness, ranging from 2.5 – 3mm. These suits are ideal for those of you wanting to head down to the beach during the warmer months of the year, but still want protection from the chill of the British waves.

Alternative Cut Wetsuits
Buy a huge selection of women wetsuits with alternative cuts from wetsuit Suppliera. These come with long legs and short sleeves, ideal for easy movability. Featuring a 2.5mm thickness, these suits will keep your legs warm whilst leaving your arms free for extra movement, making them the perfect option for surfers and kayakers.

For those of you who plan to stay in the water for a longer amount of time, such as on a diving expedition, our hooded wetsuits make an ideal purchase for ultimate protection against the cold.

Online Ladies paddle Wetsuits Supplier offer a choice between
• full-length arms with a bikini bottom,
• short legs with full-length arms, or
• a complete shorty wetsuit,
These are available in a variety of thicknesses and colours. The alternative cuts range includes a range of wetsuits that boast a fleece lining, ascertaining extra warmth, while allowing the wearer unrestricted movement.

What to look for when buying a wetsuit from Ladies paddle Wetsuits Supplier?

Various design features and materials provide varying levels of performance enhancement.

Important factors to consider for buying a ladies wetsuit from leading suppliers are:

• Surface friction: wetsuits are now manufactured with the hydrophobic outer skin. This slippery surface increases the glide advantage of the wetsuit by reducing surface resistance.
• Design: It is important to limiting water entry and design fit, supplies with a comfortable, or chaffing swim. Too much water will add weight to your suit and reduce your buoyancy and speed.
• Flexibility: It is freedom of movement, and stroke rotation which is extremely important when choosing a full suit (full sleeve and legs). Take a try and decide.
• Breathing: if the wetsuit is too restrictive around the torso or throat, it will affect the performance, hence, reducing the breathing capacity of the lungs. Wetsuits that do not restrict oxygen level in the bloodstream will provide greater performance enhancements. Neither the suit be too loose nor too tight.
These factors along with fit, durability, dryness and versatility matter the most while buying one from ladies paddle wetsuits supplier online.