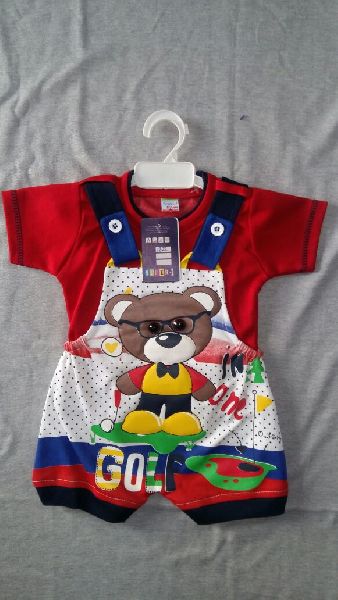 If you have not seen already, boy rompers are officially a thing now and taking over the year trends by a storm. The internet is going nuts over how cute boys are looking in rompers from babies to young toddlers. And, if you do not like to miss on fashion trends for kids, then this is something you should be checking out.

Styling your baby might be difficult because they will only wear what they like and totally discard or throw a fit if they do not like it. And, the right boys rompers supplier in West Bengal will be a great choice on getting hands on some of the trendiest clothing that you can sell and why not try on your kids too! Kid's clothes are all about comfort and love. Just like you would choose an outfit depending on your comfort and so should you do for your kid.

Mother's always has the responsibility of choosing clothes for their babies, toddlers and sometimes even young adults. And, while doing that no one will be jeopardising on comfort and style. But sometimes doing so could turn out to be tricky and a bit overwhelming. Here are some of the trendiest rompers you should be trying out and are loved by the kids.

Baby Blue Rompers

Rompers are usually very soft to the touch made with the best quality keeping in mind child-sensitive skin. The blue colour always gives a very cute look. This romper is the trendiest one that many are going for and you could compliment it with some blue shoes too. But, keep in mind that rompers being cotton gives the necessary comfort to your child.

Hello Panda Rompers

Cute pandas have always been a childhood favourite. With white rompers and cute big panda faces, this might be the cutest of all the romper trends you could go for. The monochromatic look is not dull at all and simply pairing them with black shoes will be enough.
Rompers are also available in wool which helps in keeping your child comfortable even during the cold months. Therefore, you cannot deny that rompers are meant for all seasons. And, during summers, the light material helps them keep sweat-free and not to forget cute.

French Bow Rompers

Now, this might be too cute to handle. Rompers are meant for all occasions. And, not to forget even if your child is fidgeting they cannot open it easily. Rompers which come with the elegance of a suit with a French bow will forever be a favourite. This is as formal as you can get for your boy romper with a cute formal style waistcoat.

Denim Style Rompers

Denim looks are quite stylish to look at. They are trendy and these rompers will not go unnoticed. And, if you are looking for something cool and casual for your kid, then denim rompers might be the way to go. Choosing boys rompers depends on the quality of the material and the comfort level too. With denim rompers, black or white boots go best. They are ideal autumn wear and even for winter with a cute coat.

Cartoon Rompers

From baby boys to toddlers, cartons are a favourite of all. And, if you could incorporate them into their clothing too, it might be a super fun way to keep them looking utterly squishy and cute. With bright colour and cartoon characters, the likability of all these rompers would increase among the children. A huge hit, they could be comforting home wear too.

Fashion and trend will keep on changing and rompers are the trendiest clothing items now for boys. And, if you want to keep up with the seasonal trends for the tiny tots, then rompers might be what you should be going for because they are all-season approved!

Some rompers even come with hoodies and these style tips would surely help you in making your boy look impeccable in cute rompers. See how your baby owns the look with these cute rompers that is the best option on staying updated. While buying or selling rompers, what matters would be buying from the right supplier ensuring you are getting the right price and the quality.