Boys Rompers – A Comfortable And Stylish Outfit To Wear
Posted by Admin on August, 31, 2021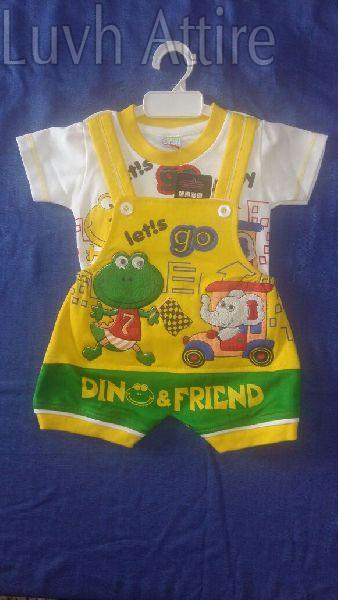 According to the dictionary, Boy romper is a piece of cloth consist of a shirt with attached shorts. It is generally used by very small children. Gradually, you'll see the toddlers wearing rompers. But, when you talk about the adult-sized romper women's clothing is the most likely environment. In the early 1900s France, rompers are said to be "boys clothing".
Boy romper is a one-piece garment and is used comfortably while playing. The word Romper comes from romp, which means "play or frolic."

Boys Rompers Supplier in West Bengal supplies you with the best quality rompers made up of the finest material. Generally, you are provided with the finest clothes material according to the season. There are four top materials for rompers:

• Cotton: It is said to be the best choice as it is gentle on the skin. Also includes breathable and sweat-absorbent characteristics. It does not cause any irritations, allergic reactions and is environmentally friendly. It might get slightly shrink in the first time wash. It is perfect for all seasons as you can wash easily and tumble dry.
• Fleece: When you talk about the winter season, it is a good choice. It has hydrophobic quality i.e. dried up very fast. It is easily washable in a machine and is wind resistant. They are bulky and attract hair, is the only disadvantage.
• Wool: It is comfortable for the winter season as it retains heat. It increases blood flow and improves your metabolism. Different compositions of wool-like merino wool, will not sweat and are found to be dry.
• Bamboo Rayon: Rompers made of bamboo rayon are ultra-soft, high durability, and antibacterial. This material is from a bamboo plant and is comfortable during the cold season. It adjusts to temperatures and allows your skin to breathe properly.
• Gauze: It is very light cotton material and is also called muslin. Available in both single and double gauze, its weight varies from thin to dense. But it doesn't give you a glamorous look.

Nowadays, Boys Rompers are said to be a single outfit used while attending dinner dates and parties. A business casual romper might be the same as the one you wear on a fun day. You can also add a jacket or blazer if you have a solid romper and it looks innovative. It can be simply called jumpsuits, short and long, available on the fashion market. Things look complicated when you go to the bathroom in this outfit.

Boys Rompers Suppliers in West Bengal provides the romper in various outfit lengths and is also appropriate in the business environment. It is also a very comfortable outfit and is easy to wear according to the season.

From where do we get these boys' rompers?

You can easily buy these boys' rompers both online and offline from Boys Rompers Suppliers in West Bengal. They promise:

• Elegant Fabric
• Affordable Price
• Varieties of clothes in different colors
• Customized Size
• Bulk Quantity
• Nationwide delivery

They provide 100 % original products to their clients and can provide the products to clients at their doorsteps. Easy payments and return options make online boys rompers purchasing highly preferring.
This entry was posted on August, 31, 2021 at 10 : 33 am and is filed under fashion. You can follow any responses to this entry through the RSS 2.0 feed. You can leave a response from your own site.